Like home… but better
Discover Stayo
Stayo is an urban collection of beautifully designed apartments, specially selected and supported by the local knowledge of our passionate team to make sure every guest gets the most out of every trip.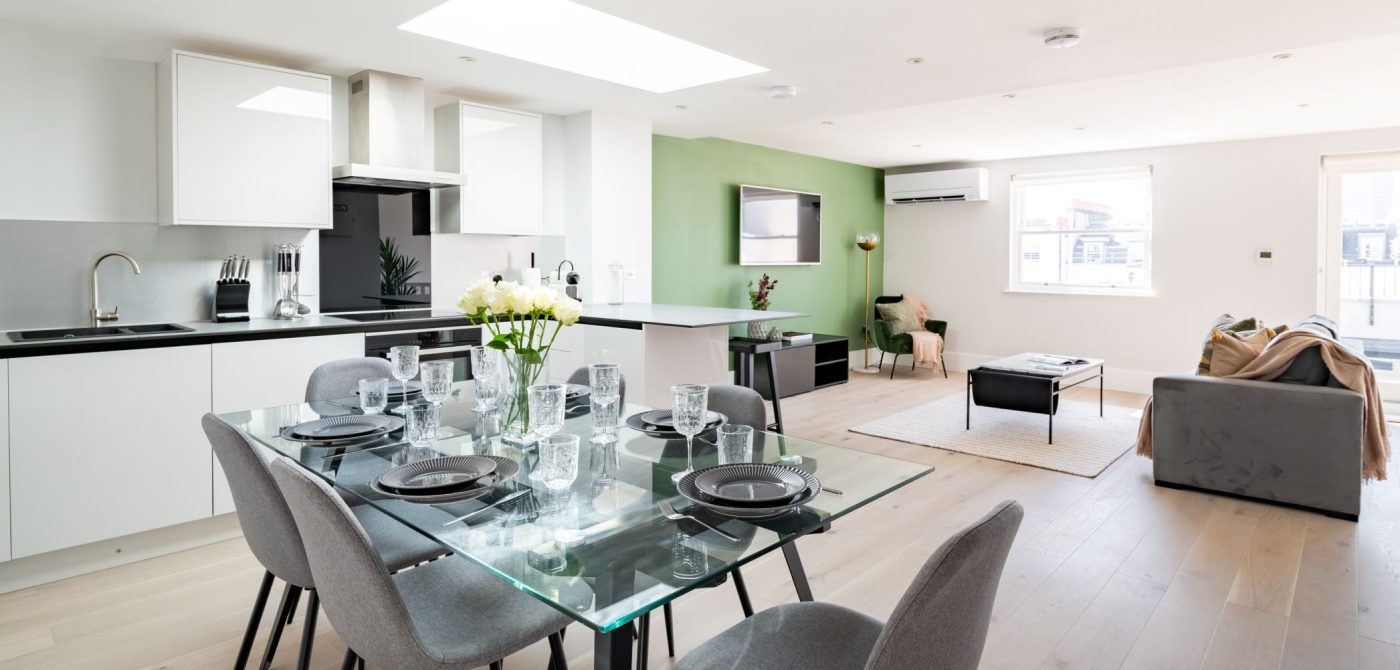 Like home… but better
Every Stayo home is hand-picked and designed by our team to ensure our guests enjoy an experience perfectly tailored to their travel needs. We pick the best homes and neighbourhoods so that all you have to do is book and then make yourself at home.
Live like a local
Our area guides are written by the Stayo team, who have shared their insider tips on where to explore, what to see and what to eat, so you can immediately feel right at home in the city and live like a local.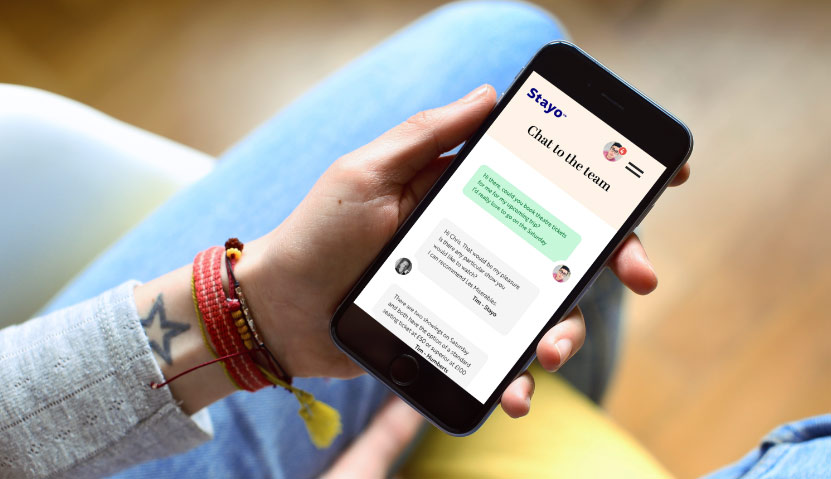 Stay connected with the Stayo team
We pride ourselves on outstanding customer service, which is why the Stayo team is available 24 hours a day to offer a remarkable travel experience every time. Guest experience is at the forefront of every aspect of Stayo. From booking a home with us online to waving goodbye after a stay and everything in-between, we want to get it right each time.
Taking care of our guests
Our Story
Starting out
The story of Stayo began in July 2012. A tenant in a six-bedroom house in London Bridge handed in their notice, but instead of looking for a replacement, we decided to advertise the spare bedroom on Airbnb. A German tourist called Albert was our first guest, he stayed for one week and left Stayo's first review!
This was when we identified a gap in the market for short-term rental in prime city-centre locations. Two of our founders (Giovanni Gravina and Angelo Zito) are based in London, while the other two (Andrea Gorini and Stefano Greco) work from Cagliari, Sardinia.
After seeing the potential of the idea, the four of us met in a small coffee shop near Victoria Station and signed the official Companies House documents to launch the business. We felt a combination of excitement and nervousness, yet we were confident that our backgrounds and different skill sets would work well together.
We started small and identified three single units on a tight budget of £10,000. It began with Ikea furniture, and Giovanni and Angelo looked after every aspect of day-to-day management, including the cleaning!
Big ambitions
We worked hard, and it started to pay off. As revenue began to grow, we were in the position to start employing staff. We hired two cleaners who multi-tasked and helped with check-ins as well as walking around with screwdrivers to do the odd bit of maintenance work.
As the portfolio grew, it became clear that a company restructure, which would enable the business to function independently was necessary. Over time, we expanded our network of landlord and agent partners. Now, we're incredibly pleased to be working with the likes of CBRE, Foxtons, Royal London Asset Management and Fuller's, together with partners such as the Royal Opera House and Sotheby's Realty.
We're proud that the company has been profitable from day one, and that turnover has grown year on year. We've adapted with the changing times of the industry to meet the needs of our customers and will continue to do so.
A new name
Over the years, we realised that while our mission has stayed the same, our ambitions have changed. It therefore became apparent that we needed to update our brand and messaging to better reflect who we are and all we have to offer. Whilst we started as Relocabroad, Stayo conveys the ambition behind our team to improve every aspect of urban travel. We're here so that you can experience unforgettable urban travel, all while living and exploring like a local from one of our hand-picked apartments.
Today, Stayo is a multicultural team of more than 25 employees, made up of different ages and representing 10 different nationalities. The team is close-knit and incredibly passionate about what they do. Everyone has amazing insider knowledge of London which they love to pass on to our guests. We have also partnered with key specialists and industry experts, such as Curate, to deliver even greater levels of the guest experience. Industry veteran Robin Paterson has also recently joined our team to bring an incredible wealth of expertise as we continue to grow. While we will always remember our first property fondly, we're delighted to now have more than 40 remarkable homes in our collection.
The future
Our vision at Stayo is to build a successful global business that provides exceptional serviced accommodation, offering high-quality property rental with a unique and bespoke guest experience.
We look forward to welcoming you to a Stayo home soon!
Simon Scott – CEO
I joined Stayo because of the fantastic opportunity this company has to grow exponentially over the next 5-10 years. Stayo's 10+ years in the Serviced Apartment industry sets it apart from it's competitors largely because of the fantastic team that are behind the scenes, many of whom have 5+ years with the company. Experience + Knowledge is an unbeatable combination and will be the platform for our growth over the next few years.
Victoria Hardy – Revenue Director
I moved from Sydney to London almost 10 years ago and instantly fell in love with it! One of my favourite parts of London is Borough Market and the walk from there to South Bank. I also love walking the pretty streets of Notting Hill and basically exploring anywhere there is a market. My favourite things to do when I'm not working are spending time with friends over a good bottle of wine and escaping to somewhere warm for a swim in the ocean.
Robin Paterson – Non-Executive Chairman
I'm a property entrepreneur with a vast experience within the Residential and Leisure sectors both in the UK and Internationally. I'm married with five children and my passions include sailing and all water sports.
Muaaz Rizvi – Operations Director
Having swam in the ocean that is insurance & start-ups, I've joined the Stayo ship and set course for ascension into the Short Term Rental market. Having moved to London not soon before the pandemic there's still certainly plenty left for me to explore. I'm a big foodie, enjoy long walks and power naps.
Louise Barnes – Head of Reservations and Revenue
I've always had a passion in the hospitality industry for over the last ten years. I am a positive and energetic person. From when starting with Stayo it has been nothing but a positive and comfortable environment to work in. I enjoy meeting new people and discovering new things. In my down time I love exploring different outdoor parks, taking long walks, exploring London and spending time with family & friends.
Inah Valid – Reservation Manger
When I'm not working, you'll often find me in one of London's many museums and galleries. One of my favourites is the Tate Modern; from the enticing structure of building to its captivating exhibitions. You're really spoilt for choice!
Alison Facun – Reservation & Support Assistant
When I'm not at work you will most likely find me shopping in the city to find something new to wear for my next trip. I love spending time in the city with my friends, whilst catching up over a glass of wine.
Christian Pedre – Head of Operations
Stayo is an amazing company with so much experience, yet so much growth opportunity in the industry and beyond. When I am not working, I like to spend my time amongst friends in many of London's amazing green spaces or experiencing the fine atmosphere of the city's intimate pubs.
Lukasz Walaszynski – Operations Assistant
My favourite thing about London is the breadth and variety of the city. You'll often find me relaxing in one of Covent Garden's many great pubs after work or practicing Tai Chi.
Andrea Gorini
I'm Andrea and I am an entrepreneur in the tourism sector, always fascinated by the world of travel. I like to play sports but, today, my main interest is my two grandchildren aged 7 and 3. I can't wait to take them to London which, since I was a boy, has been my favourite city and which still fascinates me in every neighbourhood, with its perfect blend of history, culture, finance and modernism. Impossible for me not to spend an evening in Covent garden or the Tower of London or spend a morning in Camden Town. Just as I can never miss a fish & chips in my favourite restaurants.
Angelo Zito
I am a citizen of the world and love travelling and meeting new people, learning about different cultures and exchanging experiences. I love London and I'd like to recommend Greenwich and its magical and seraphic atmosphere. I guess this is why I chose to live there, so if you go pop out for a "cuppa" and a chat. As for work, I am a Revenue and Operations specialist and I am currently studying to qualify as an accountant.
Giovanni Gravina
I'm Giovanni, one of the founders of the company. I am a Historian and entrepreneur with a passion for wines. If you fancy a bottle of wine I would recommend the 10 Cases in Covent Garden. If you love reading like me then you should visit The British Library near King's Cross Station.
Stefano Greco
I am Stefano, an enthusiastic entrepreneur passionate about cinema and technology. I desperately try to follow both while raising two little devils. I love walking along the South Bank, stopping to visit the Tate Modern for the millionth time or enjoying great ethnic food.
Our company values

S – Simplicity

T – Trust

A – Ambition

Y – Your Customer First

O – Ownership
Looking for a London home you can trust?
Guest experience is at the forefront of every aspect of what we do. From booking a home with us online to waving goodbye after a stay and everything in-between, we want to get everything right. Customer feedback is always carefully considered and appreciated, as it helps us provide the exceptional service that we pride ourselves on.
Traveller – Expedia
It was such a fantastic location. Everything needed was provided. Such a lovely touch to have tea and coffee there for when you arrived.
Isidora – Booking.com
The size of the apartment was wonderful it was so well equipped we were very happy and it exceeded our expectations
Traveller – AirBnB
We stayed for 5 days and were very happy with the appartment. For our family (2 adults, 2 kids) the size was perfect. The location is great, *very* close to the tube-station, yet not noisy. Would not hesitate to book again.